Partners in Naked Eye Productions Ltd. since 1988, Jane C. Wagner and Tina DiFeliciantonio's critically acclaimed work has been screened at museums, film festivals, educational institutions, and, broadcast in countries throughout the world.
From cinema verite to impressionistic docs, DiFeliciantonio and Wagner have tackled a diverse range of subjects (AIDS, teenage sexuality, child abuse, body image, teaching tolerance, alien abductions…), garnering dozens of top honors, including two National Emmy Awards for Outstanding Cultural Programming and the Sundance Grand Jury Prize for Best Documentary .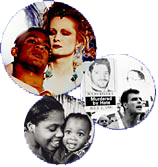 Support for their films has come from organizations such as the National Endowment for the Arts, American Film Institute, ITVS, Rockefeller Foundation, Women In Film, California Council for the Humanities and New York State Council for the Arts.
Their work has been seen on PBS, Sundance Channel, TLC, SciFi Channel, USA Networks, HBO and foreign television.