From cinema vérité to impressionistic documentaries, Tina DiFeliciantonio and Jane C. Wagner's critically acclaimed work has been screened and broadcast in countries throughout the world.
Over the years DiFeliciantonio and Wagner have tackled a wide range of subjects—social justice, sustainable energy, art, science, ethics, AIDS, war time rape, LGBT civil rights, teenage sexuality, child abuse and education—garnering dozens of top honors, such as two National Emmy® Awards for Outstanding Cultural Programming and two Sundance Film Festival Awards, including the Grand Jury Prize for Best Documentary.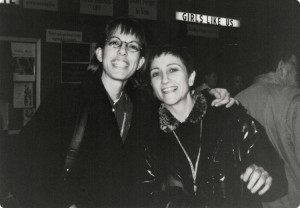 They began their professional careers after graduating from Stanford University's master's film program, where DiFeliciantonio made her directing debut with the student Academy Award® winner Living With AIDS, which was the first film on the subject to be broadcast nationally on PBS.  Wagner directed the award-winning Hearts & Quarks, which explored the ethical issues surrounding the application of theoretical physics on nuclear weapons and the moral principles related to organ transplantation.
Having worked in countries throughout the world, including Abu Dhabi, Bangladesh, India, Japan, Australia, China, England, Mexico and Turkey, their films have been screened at film festivals and cultural institutions from Tokyo to Brazil at such venues as the Berlin International Film Festival, Pompidou Center, Guggenheim Museum and New York Museum of Modern Art.  Their work has been seen on PBS, Sundance Channel, Showtime, TLC, MTV, SyFy, USA Networks, HBO and foreign television.

Support for their work has come from organizations such as the American Film Institute, the National Endowment for the Arts, the Rockefeller Foundation, MacArthur Foundation, Sundance Documentary Fund, New York State Council for the Arts, and the Independent Television Service.
In addition to their own filmmaking, Wagner and DiFeliciantonio Executive Produced a thirteen part series in New Orleans for TLC, and, frequently collaborate with other filmmakers as editor (Wagner), cinematographer (DiFeliciantonio) and consulting producers.  Early in her career DiFeliciantonio worked on a number of narrative feature films and was the Associate Producer of Kama Sutra by director Mira Nair.
Wagner and DiFeliciantonio have had the pleasure of teaching at Columbia University and Swarthmore College, as well as serving on a number of juries and moderating panels for the Sundance Film Festival, New York Women In Film and P.O.V., among others.  They serve or have served as Members of the Board of Directors for a number of national organizations including Women Make Movies, Frameline, Independent Filmworks Inc., Foundation for Independent Film & Video, and, the Independent Television Service.  Both are members of The Academy of Television Arts & Sciences.
They frequently offer pro bono services on projects of importance and take great pride mentoring the next generation of filmmakers.  They are also committed to community service—DiFeliciantonio was recently appointed to Manhattan Community Board 4 and serves on a local homeless shelter's Community Advisory Committee.
Prior to graduate school, Wagner earned a M.Sc. in Political Sociology and a B.Sc. Political Science & Economics from the London School of Economics.  DiFeliciantonio holds a B.S. in Humanities and a B.S. in Business Administration/Marketing from Drexel University.

FILMMAKERS' STATEMENT:  One of the central driving forces of our work has been to approach socially relevant, often 'challenging' subject matter with sensitivity and compassion.  Weaving together compelling stories that engage and involve the viewer, we seek to explore and contextualize issues through storytelling.  Our work strives to broaden awareness, encourage self-reflection, promote public dialogue and inspire action by bridging the gulf between the personal and the political…the individual and society.  Encouraging viewers to connect with a film's subject matter from individual vantage points, we invite audiences to re-evaluate their relationship to society and to seek new perspectives on the complexities of the human condition.