The Question of Equality Part II:  Culture Wars
Directed, Produced & Edited by
Tina DiFeliciantonio & Jane C. Wagner
Series Consulting Producer
Tina DiFeliciantonio
Series Senior Producer
Isaac Julien
Executive Producer
David Meieran
Produced by Testing The Limits for the Independent Television Service and Channel 4 U.K. Television.
"The second on this excellent series on lesbians and gays in the U.S. focuses on three events that had a galvanizing effect on the community…. As all three stories are related, you can't help feeling a sense of dismay, anger and sheer sadness. As has been said, these aren't just attacks on gays, they are attacks on humanity." The Guardian, U.K.

"Sophisticated storytelling with a difference…. Well researched, passionately articulated, dramatically structured, it's terrific television." The Village Voice

"A fascinating, carefully produced panorama and an important topic on the cutting edge of social change." The Hollywood Reporter

"A television breakthrough on gay and lesbian issues." The Los Angeles Times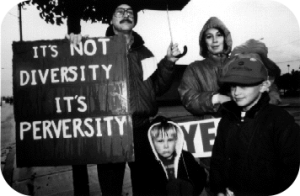 A provocative and compelling four-part documentary series about the struggle for gay rights in America. Parts 1-4 include: Out Rage '69 by Arthur Dong, Hollow Liberty by Robyn Hutt, Culture Wars by Tina DiFeliciantonio and Jane C. Wagner and Generation Q by Robert Byrd.
"While each separate episode of this high-quality documentary series works independently, the four parts coalesce into a thoughtful and powerful portrayal of seminal events in the last twenty-five years of queer history. Combining archival footage, contemporary interviews and artistic recreations, the well-produced film gives an excellent perspective of the alternating progress and setbacks in the struggle for lesbian and gay rights.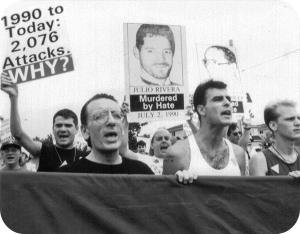 In Culture Wars the civil war for cultural values being fought by right-wing conservatives and gay activists is chillingly depicted: after activists convince authorities to acknowledge the 1990 murder of Julio Rivera in Queens as a hate crime, the murderers are convicted;Jesse Helms uses the public television broadcast of Marlon Rigg's Tongues Untied to attack the National Endowment for the Arts; and local activists successfully campaign against Oregon's Religious-Right-sponsored Ballot Measure 9, the first of many initiatives nationwide seeking to curtail civil rights."
This well-conceived and executed documentary is highly recommended."
—James E. Van Buskirk, San Francisco Public Library
"The Question of Equality" was funded in part by the Independent Television Service (ITVS) with funds provided by the Corporation for Public Broadcasting. The series was broadcast nationally on PBS and Channel 4 U.K.
For a detailed show outline:
http://archive.itvs.org/external/QofE/CultureWarsSyn.html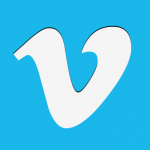 Watch The Question of Equality: Culture Wars on Vimeo on Demand

For individual use only. For all other purposes, including institutional use, please order The Question of Equality: Culture Wars from our distributor (below).
Video Sales:
KQED Books and Tapes
5980 Miami Lakes Drive
Miami Lakes, FL 33014
Phone: 800.358.3000
NOTE: Companion book also available. Please inquire.
Other Information:
Independent Television Service (ITVS)
P.O. Box 78008
San Francisco, CA 94107-8008
415.356.8383 Ph
415.356.8391 Fax
itvs@itvs.org E-mail

"There is a religious war going on in this country. It is a cultural war as critical to the kind of nation we shall be as the Cold War itself, for this war is for the soul of America."
— Pat Buchanan