Silent Voices of the Silver Screen
(a work in progress.)
Directed & Produced by
Jane C. Wagner & Tina DiFeliciantonio
Silent Voices discloses a largely ignored chapter in our cultural history—how women and independent filmmakers, a once powerful force in the early film industry, were pushed to the margins during a period of dramatic transition from cottage industry to mature oligopoly.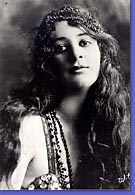 Told through the window of a colorful and charismatic independent silent filmmaker, recently rediscovered Nell Shipman, Silent Voices shows how independent film pioneers were caught in the crossfire between companies fiercely battling to dominate through the consolidation of power. The film reveals the economic and structural developments that, quite impersonally and without rancor, muted the creative voices of those artists who struggled to maintain their financial and creative independence.
Telling the untold story of the early independent filmmakers—the men and women that inhabit the space between the lines of the mogul's biographies—Silent Voices weaves together this pivotal history, united it by the thread of Nell Shipman's life and career. Working at a time when women filmmakers flourished (1910-1920), Nell Shipman was a fiercely passionate, independent film pioneer. Her films were enthusiastically greeted by large audiences who applauded her strong, self-sufficient heroines, breathtaking locations, and wild animal co-stars. At the peak of her career, Shipman turned her back on Hollywood in order to retain creative control of her work and built her own production company deep in the wilds of Idaho.

Independents like Shipman stood in stark contrast to the increasingly powerful studios. Their movies and production methods, which stressed collaboration and location filming, became characteristic of an approach deemed irrelevant. By the mid-1920's the film industry had become consolidated as well as vertically integrated. The studios had established firm control over the entire movie-making process—financing, production, marketing, distribution and exhibition. As a result, producers like Shipman struggled to find financing and distribution.
With over twenty-four films to her credit, Shipman, like hundreds of other independent filmmakers, went bankrupt. Her film career was over at the age of 33. Years later a penniless Shipman applied to the Directors Guild of America for pension and welfare benefits. Her request was denied. The Guild had no record of her ever making films.
Like most of the pioneer women filmmakers, and many early independents, Nell Shipman is barely remembered. Her movies have been forgotten, the details of her life scantily documented. However, in the last ten years a major cache of Shipman's films has been discovered, providing a large and important collection of work by a silent film pioneer, and, sparking retrospectives from New York to San Francisco, Montreal to Paris.

Silent Voices, an hour-long documentary, takes such recent archival discoveries as a way of using history to explore the complexities of contemporary concerns. Interweaving archival footage circa 1905-1930 with desolate, contemporary images, Silent Voices will create a collage of an era that is layered and evocative, yet at the same time real. Excerpts from documentary footage of the period, as well as sequences from dramatic films, will introduce a variety of independent voices. Layers of text and voice-over from film-related articles, books, journals and advertisements of the period will help establish the cultural context. Nell Shipman's presence will be felt in startlingly close proximity since she also starred in her own films; excerpts from her passionate, autobiographical writings will help create a unifying narrative.
This project has been funded in part by: The National Endowment for the Arts, The Rockefeller Foundation, New York Foundation for the Arts, California Council for the Humanities, The Idaho Humanities Council, The Jerome Foundation, New York State Council for the Arts, Western States Regional Fellowship and The Funding Exchange/The Women's Project.